by Amanda
Who doesn't love garlic? Its robust flavor adds dimension to almost any dish and the best part is – it's extremely easy to grow! The best, tastiest Garlic comes straight from the garden. Our Softneck California Garlic is known for both its culinary and medicinal aspects, making it a home garden favorite. What is standing between you and freshly grown, flavor-packed garlic? Just a few simple steps this fall and you'll be harvesting plenty of delicious garlic come summer!


1. Choose your Variety. - This Fall, we're carrying two easy-to-grow varieties that winter-over to harvest in the summer. California Softneck is a culinary favorite and fabulous in pasta, stir fries, bread and so much more. Hardneck Red Chesnok is just as flavorful and known for its gorgeous purple coloring. The full-bodied, bold flavor is perfect for cooking with and the cloves are also easy to peel!

2. Plant – Separate cloves from the bulbs and plant each clove, pointed end up, 4" deep in a sunny spot. Space the cloves 6" apart, with about 12" between each row you plant.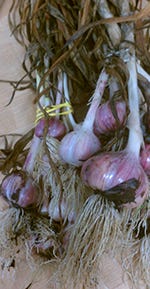 3. Care – Water, weed, water! Pinch off flowers that emerge. Although pretty, they will steal much-needed energy from the growing bulbs!

4. Enjoy! When the green growth starts to die back (around mid-summer), this means it is time to harvest and start curing. Curing is basically drying the bulbs out – simply place them in a warm, sunny area for several weeks. Once the stalks are dry, cut them off and you are ready to start chopping! Garlic can be stored for a long time in a cool, dry place by roping or hanging in netted bags.
You will enjoy your next garlic-infused dish so much more knowing it came from your own green thumb! Happy Gardening!