Lavender: A Treat for the Senses
by Amanda
There is nothing like the gentle scent of lavender wafting through one's garden on a summer evening. Lavender's scent is soothing, calming, and lifts the spirits. Honey bees love it too!
It is a wonderful cooking ingredient and when dried it makes sachets, everlasting bouquets, wreaths and more.
Lavender planted along a walkway makes every trip indoors smell all the better.
A walk in a garden with blooming lavender can be a magical experience of sight and scent. The good news is that there are many ways to preserve the benefits of lavender to enjoy it all year long.
Which Lavender to Grow?
While all lavender has scent, some lavenders are stars for specific uses. Here's a quick guide to choosing the best plants for your post-harvest uses.
Edible Lavender: the English lavenders (Lavandula angustifolia) are prized for their sweet flavor, particularly 'Munstead' and 'Hidcote'. Be sure to use organically grown lavender.
Drying lavender for sachets or potpourris is easy and most any variety will work well for this use. We like lavender (Lavandula intermedia) 'Grosso', 'Hidcote', 'Provence', and Phenomenal. Another great choice is lavender (Lavandula angustifolia) 'Munstead'. Some of the smaller lavenders are blooming workhorses too, providing lots of fragrant flowers for home use. Lavender Blue Cushion, Dilly Dilly, Superblue, and Blue River are great choices for smaller spaces.
Lavender dried on stems for bunches, wands and wreaths: long stemmed, fragrant varieties such as lavender (Lavandula intermedia) 'Grosso' or 'Provence' are our top picks. Simple bunches of long-stemmed dried lavender are elegant tied with a ribbon. Lavender wands are fun to make and wreaths are a simple way to create a dramatic entrance to a home or to brighten a small space where its scent will remind you that summer is on its way.
How to Harvest and Dry Lavender
If you are harvesting your lavender for use as a fresh flower, cut the stems when about half of the flowers have opened.
If you're harvesting for use as a dried flower, wait until about ¾ of the blooms have opened.
The most ideal time to harvest Lavender is when the plants are dry (which prevents the stems from becoming moldy) and fragrant. While this may be at day's end, always remember to avoid harvesting lavender when the air is humid.
Cut the stems below the flowers, leaving a bit of stem on the plant. (Leave some for the bees please!)
When you have a bunch, wrap the stems with a rubber band or string, and hang them upside down in a dark, dry space to dry (paperclips make great hooks!). Once they have dried, in about 1-3 weeks, you can use them for dried bouquets, culinary or sachet use, and more.
To prepare your dried lavender for use in cooking, sachets, bath soaks, etc. you need to remove the flowers from the stems. Just run your fingers along the stems and the dried flowers will drop off.
If you have debris mixed in, just run the buds through a kitchen colander to clean them. Store in an airtight container in a dark place. Now you are ready to create!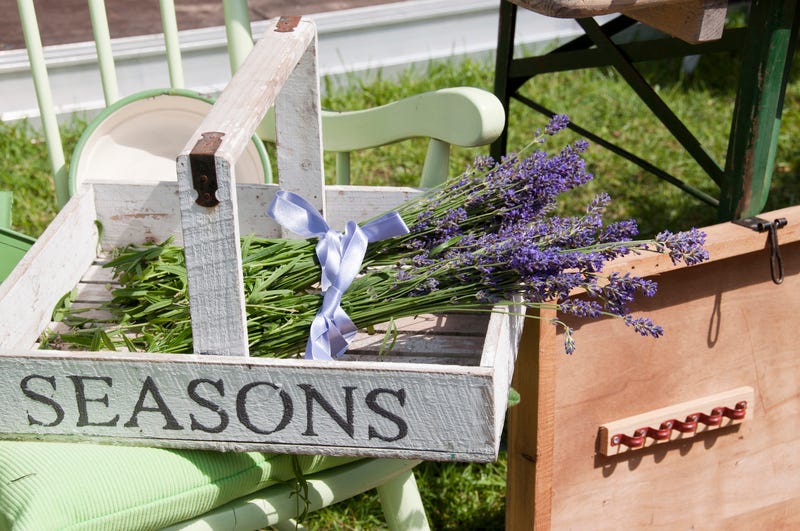 Harvesting lavender in bunches for drying.
Lavender Sachets, Bath Soaks, Dried Bouquets
Tuck your lavender buds into simple-sewn pouches to place into drawers and closets. Add a string or ribbon loop and hang them on hangers to gently scent your clothing.
Or simply place a dish of buds in a room.
Add lavender buds to your favorite bath salts or make your own; if you place them in a cloth pouch they are easy to remove from the tub.
Fun in the Kitchen with Lavender
Wake up your senses with lavender! Great in baked goods, ice creams, fruit salads, and savories, lavender's culinary uses are only limited by our imagination.
Use lavender sparingly – it is strong and can easily over-power a recipe. To get started, try a proven recipe such as lavender shortbread or lemon-lavender cookies.
Lavender sugar is another great way to start. In a spice mill or food processer blend 1 cup sugar with 2 Tbsp. dried lavender. The oils will infuse the sugar with flavor and fragrance. Store in an airtight jar and use it in recipes, to sweeten tea, or for ice cream.
Lavender Essential oil
Last but not least among lavender's gifts is its essential oil. Distilled from the plant, the oil of lavender is used in perfumes and as an essential oil available in many stores.
Lavender 'Grosso' (Lavandula intermedia, is an excellent lavender for essential oil production. Essential oil concentrates the essence of lavender, making it excellent for calming and soothing the nervous system. Many swear by it as a sleep aid as well!
Lavender essential oil is also a well-know healer of scars in the world of herbal medicinals. Its antiseptic, antibacterial, and antimicrobial properties paires with its ability to reduce itchiness makes lavender oil a favorite treatment for friction burns and acne scars.
Keeping Pots of Lavender on Hand
Those with limited garden space, or gardening in containers, may not realize that they have plenty of room to grow their own lavender plant. Try planting our Lavender Anouk in a container, in a sunny area, for lovely, purple blooms and the classic lavender scent. For a more unique twist on the classic purple lavender, plant Jean Davis in a container for bright, icy-white blooms and wonderful fragrance.
Planting A Field of Lavender
For those looking to create a bright, fragrant meadow of lavender, there are several options for planting. Plant Lavender Hyssop seeds for their distinct licorice taste and spectacular lavender blooms and scent.
If you're looking for an already established plant to create your field of lavender, try these favorites: Lavender Munstead, Hidcote, or Jean Davis.
Lavender works best in drier locations with full-sun and fast-draining soil.
Lavender's elegance and fragrance in the garden, as well as its many uses once cut, makes it a classic garden favorite. If you don't grow lavender already, try it this spring.
If you have existing lavender in your garden, try planting a new-to-you variety or simply expand the heavenly scent in your garden with tried and true favorites. You will thank yourself in the summer months, when your senses are overcome with beautiful blooms and fragrance.
Keep lavender with you all year long! And if you have some tips, we'd love to hear your favorite ways to use lavender in the comment section below!