Church volunteer project bursts into bloom in Pensacola, Florida
A church volunteer project bursts into bloom with a wildflower meadow the whole city can enjoy.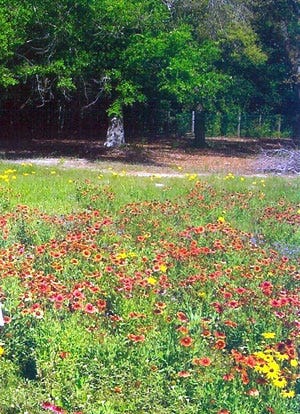 We'd like to thank Mrs. Butler, Pastor Jerald Manley (right), and Asst. Pastor Jody Wolf (left), and the entire church group for sending these beautiful pictures for all of us to enjoy!
The members of Heritage Baptist Church in Pensacola, Florida, have a whole new area on the church property to enjoy! Betty Anne Butler, a church member who loves wildflowers, and is a long-time friend of American Meadows, donated the seed as a memorial to her dad. Then the planting was a church project, enjoyed by a group of volunteers, including the pastors, creating a wildflower preserve on an expanse of land adjoining the church parking lot.
Today, the meadow is in full bloom, and enjoyed by not only the church congregation, but also by thousands of passers-by, since the church is on a major thoroughfare.
The mixture planted included mostly tough native perennials that would be happy with the extreme heat, mild winters and light soils of the Gulf Coast. Most successful were (G. aristata) and (C. lanceolata), plus annual (P. drummondii), which is native to Texas but has become naturalized in areas of Florida.
Plans are now being made to further develop the meadow area with more wildflower species and perhaps a nature walk with benches.

Photo Notes:
The top photo shows the entire expanse of the large meadow during mid-April.
Second photo shows the healthy bloom of Perennial (G. aristata), a wonderful native species that adds great color and has a long season of bloom. Common names are Firewheel, Indian Blanket and Blanket Flower. The yellow flowers in the photo are (C. lanceolata), another tough native species and . The meadow also has bloom of several annuals including red , (P. drummondii) and Sweet Alyssum.
The third photo shows the pastors who led the project: That is Pastor Jerald Manley on the right, and Asst. Pastor Jody Wolf at left.
Shop Wildflower Seeds For The Southeast