By Cassandra Barr
I have officially completed my last class! After an intense, incredible, exhausting, and exciting two years, I am ready to graduate the School of Professional Horticulture at the New York Botanical Garden. It was a one-of-a-kind journey to put my life on hold for two years and entirely surround myself with horticulture and plant lovers. And it worked. The School of Professional Horticulture (SOPH) not only gave me an incredible education of plants, but also gave me an experience of a lifetime. It gave me the ability to call NYBG a second home.
The School of Professional Horticulture
While it's difficult to explain this experience in a short article, here is a brief insight on what my life was like these last two years at NYBG.
Year One
The first year of the program was the most intense. I had classes packed from morning to night ranging from botany to landscape design to greenhouse management to plant identification. At any given moment I was either in the classroom, walking the grounds, working on labs, or studying for exams. Information was being thrown at me, and I was absorbing as much of it as possible.
On top of classes, I also travelled throughout the garden on rotation. Rotations were our opportunity to gain hands-on experience, working the typical day at NYBG and learning directly from the amazing gardeners and curators there. This gave me more knowledge and experience in the field, as well as relationships with some of the greatest horticulturists in the world.
Aside from academics and rotations, I went on "plant walks," with a different expert every week. By being tested on the identification and memorizing the Latin names of about 15 plants per week, I was able to correctly identify about 1,000 plants from the school's "master plant list" in that first year alone. I took it seriously knowing that I had to pass a cumulative final plant ID test before I would be able to graduate.
If that wasn't enough happening at once, designing, installing, and maintaining a student plot was another big project for my classmates and me in the first year. We were given the task of designing a themed garden in small individual plots, where we had to present our designs, order our seeds, propagate, plant, and maintain them, all within a budget.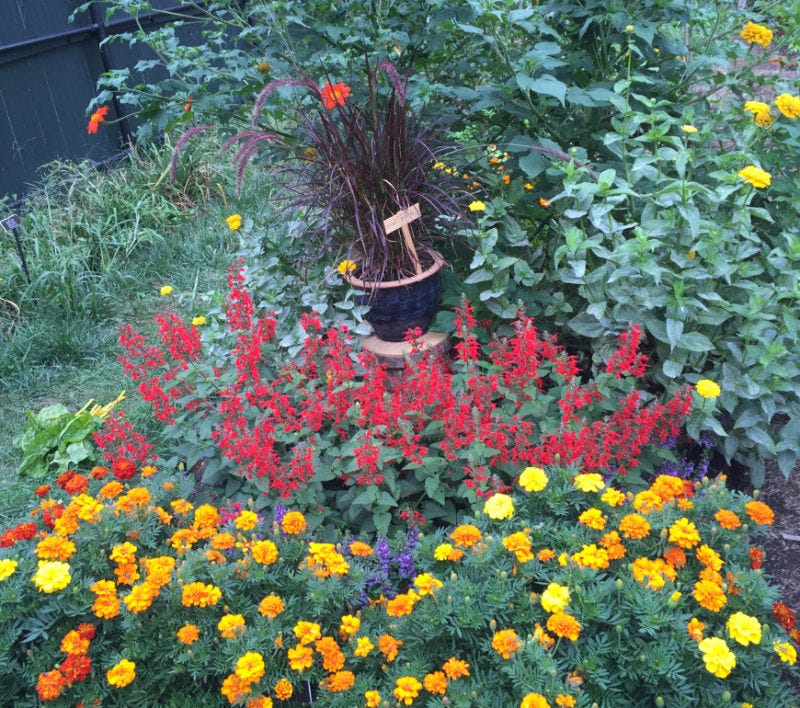 My student plot: a hot color cutting garden.
Year Two
In the second year of the SOPH program my classmates and I spent six months away from NYBG on individual internships. When I returned, I was starting the last leg of this two year program. I studied feverishly for my final plant ID exam and happily passed every category! I took more advanced classes. I finished up major projects and presentations that are required as a second-year student. And I finally crossed the finish line. As I write this now, I have completed my last class and will officially graduate in just a few days!
The New York Botanical Garden
My days in that first year blurred together, sometimes seeming endless with a full day of rotation, followed by studying for plant walk tests, tending to my plot, fitting in a three hour night class, driving home, collapsing on my bed, and waking up at 5:15 a.m. to repeat the process. So was I overwhelmed and exhausted at times? YES. But there were also so many moments of disbelief that this was my life. I got access to NYBG and would spend up to 14 hours a day there. I would always find peaceful moments in between the frenzy when I'd be walking in the rock garden or on the quiet path to the conservatory where I could reflect on just how lucky I got. These moments always reset my mind and allowed me to focus on the tasks ahead.
Cherry collection.
While the program gave me an abundance of knowledge and experience, I will most treasure my relationship with the garden itself. It was incredible being able to drive to NYBG every day to study, walk around, gain relationships, and make my mark on this exquisite botanical garden. Having come a long way from my first week (when I carried around a map in my backpack), I now know every trail and road within this 250 acre garden like the back of my hand. From the giant Styphnolobium japonicum on the front lawn of the library building to the stand of Metasequoia glyptostroboides across the garden in the conifer collection, I feel as if I know the location of every individual tree on the property.
Whether it's the ever-changing rock garden in April or the quiet shade of the forest paths in July, I've discovered my favorite locations to visit depending on the time of year. I've made friendships with the great curators and gardeners that make NYBG what it is. And most incredibly, I can visit in the future and see the trees that I planted, knowing that I've made my small mark there.
What I hope you gain from my story is not just the knowledge of how the SOPH program works or the beauty of the NYBG. I hope I successfully shared my feelings towards this experience: the joy, excitement, wonder, and awe. I hope you understand what it is that gardens embody and how they deeply affect our minds and wellbeing. Because in the midst of this crazy world, whether it's being surrounded by potted plants on a terrace, a small nook in your backyard, or the vast 250 acres of NYBG, gardens give you the chance to slow down, appreciate, and enjoy.
Taking an herbarium workshop and learning how to press Galanthus.
---
Cassandra Barr is a passionate horticulturist and environmentalist. She loves to investigate the connections and ecology of all things, and has a particular interest in the role of plants within that complicated web.